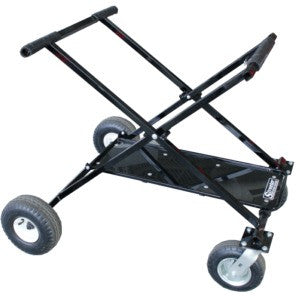 You made the right choice.  Geniune Streeter Super Stands Big Foot stands.

The original, top selling and best built!  8" pnuematic casters are great for rougher terrain.  Standard black, red, blue powder coat finish available. Built in-house at our family owner shop in Hartford, WI USA!
We uses the highest quailty steel for our stands, and they also come standard  with a fold away tool tray with a tough aluminum insert. Laser cut gussets and tubes along with the best welding, assembly and packaging in the industry continue to make Streeter Super Stand Big Foots the leader in kart stands.  

There are many copy cats out there- but there is only one Streeter Super Stands.  Don't settle for less, demand that your stand is a genuine Streeter Super Stands Big Foot.
BE SURE TO SELECT "KART STAND SHIPPING" UPON CHECKOUT. OTHERWISE WE WILL NEED TO UPDATE YOUR ORDER WITH THE DIFFERENCE OF ACTUAL QUOTED SHIPPING AMOUNT.

*While Streeter Super Stands Stackers ship via UPS Ground, there may be costs variances beyond our control through UPS- either plus or minus what is quoted with your order.  You may be contaced via our crew prior to your order releasing if there are any UPS rate variance issues which may effect cost.